Do you remember watching Crocodile Dundee?
Well this year sees the release of "Dundee – The Son Of A Legend Returns Home" in which Mick "Crocodile" Dundee's son comes to Australia to hunt down his father after he gets lost in the outback and has some big name stars such as Russell Crowe and Isla Fisher making an appearance.
The original film was released on 30th April 1986 in Australia and on 26th September in the US.
It was the second-highest-grossing film of that year and went on to do the same worldwide, with an estimated 46 million tickets sold in the States.
Interestingly, there are two versions of this film: the Australian version and the international version.
In the international version, much of the Australian slang was replaced by more commonly understood terms and was slightly shorter.
Advertisement
The idea for the film came to Paul Hogan when he was in New York.
He thought about what it would be like if a Northern Territory bushman arrived in time. He said:
"There's a lot about Dundee that we all think we're like; but we're not, because we live in Sydney.
He's a mythical outback Australian who does exist in part—the frontiersman who walks through the bush, picking up snakes and throwing them aside, living off the land who can ride horses and chop down trees and has that simple, friendly, laid-back philosophy.
It's like the image the Americans have of us, so why not give them one?… We've always been desperately short of folk heroes in this country.
Ned Kelly is pathetic. So are the bushrangers."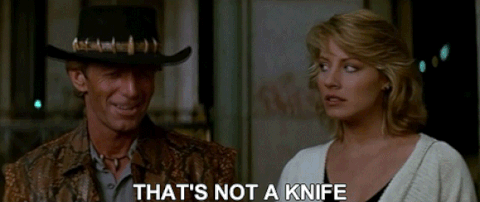 Advertisement
---
So what better time to look back at the cast of the original films and how they look now and what they've been up to since filming those classic movies?
Paul Hogan – Mick 'Crocodile' Dundee
Mick "Crocodile" Dundee was one of those amazing and memorable characters from one of the great movies of the 1980s.
He had a massive personality and was a very caring character at heart, but also very funny and not afraid to get in to a scrap when he needed to either!
With his best mate Wally by his side he could cope with anything the Outback had to throw at him.
Paul Hogan is 79 this year so he has aged quite a lot since filming the Crocodile Dundee films, he also never starred in too many other films, but he married co-star Sue Charlton after filming Crocodile Dunee, though she filed for divorce in 2013 citing irreconcilable differences.
Linda Kozlowski – Sue Charlton
Playing the American reporter, Linda Kozlowski, Sue Charlton was the reporter who came to Australia to write a piece about the legend that was "Crocodile Dundee" and ended up finding love in the form of Mick Dundee.
She then took him to America in the first film before returning to Australia with him in the second.
Sue Charlton appeared in a few films around the same time as the Dundee movies, but never really made a proper career of her acting, she still looks amazing today though!
Continued on page 2
Advertisement
---